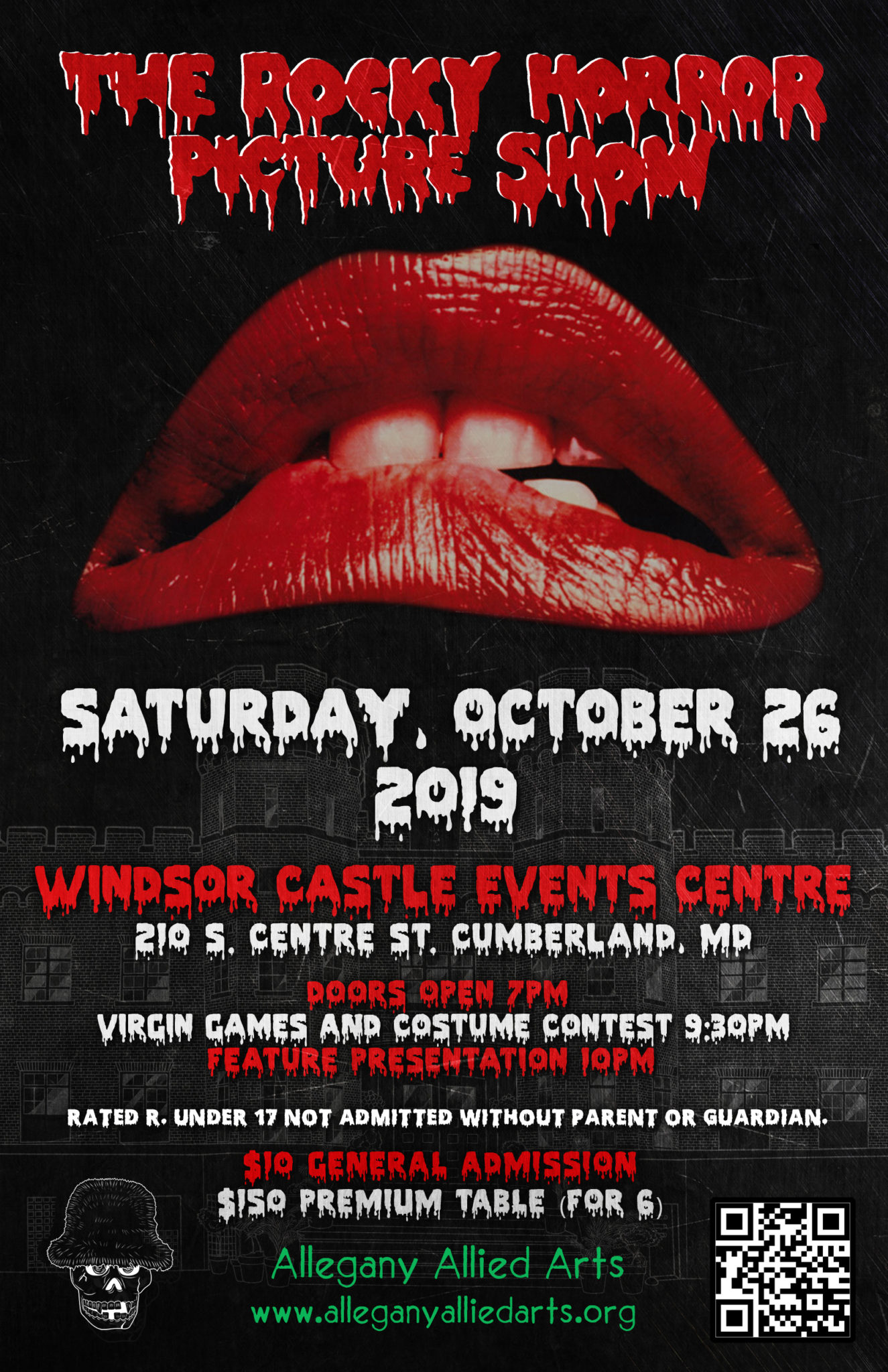 Allegany Allied Arts is pleased to present the cult favorite "The Rocky Horror Picture Show" (1975) with full audience participation encouraged. Hosted by Envy Divine. Right in the middle of the annual Ghouley Pub Crawl.
Saturday, October 26, 2019, Windsor Castle Events Centre, 210 S Centre St, Cumberland, Maryland 21502. Doors open 7pm, "Virgin Games" pre-show and costume contest at 9:30pm. Feature presentation 10pm. A limited number of "Survival Kit" grab bags will be available for $5 each. Arrive early and don't miss out.
100 minutes. Rated R. Under 17 not admitted without parent or guardian. 21+ for alcohol. $10 General Admission. $150 Premium Table (for 6) includes six admission tickets, six grab bags, and six t-shirts. ***(Premium Tables are completely sold out.)*** General Admission tickets will be available at the door and may be purchased in advance via Eventbrite: https://www.eventbrite.com/e/the-rocky-horror-picture-show-1975-tickets-54936968953
We are also pleased to welcome All That To Go serving Meat Loaf sandwiches and other fare TBA, and Heart of the Earth Sanctuary and Rescue with bake sale and fundraising.
There are changes coming at Windsor Castle – the facility is being leased full-time and there will be no event rentals after November 1. Not knowing where, or even if, we will be next year – if you have been thinking about coming to the show this year, don't put it off until next year.
Tickets available via Eventbrite or click on our TICKETS tab above!