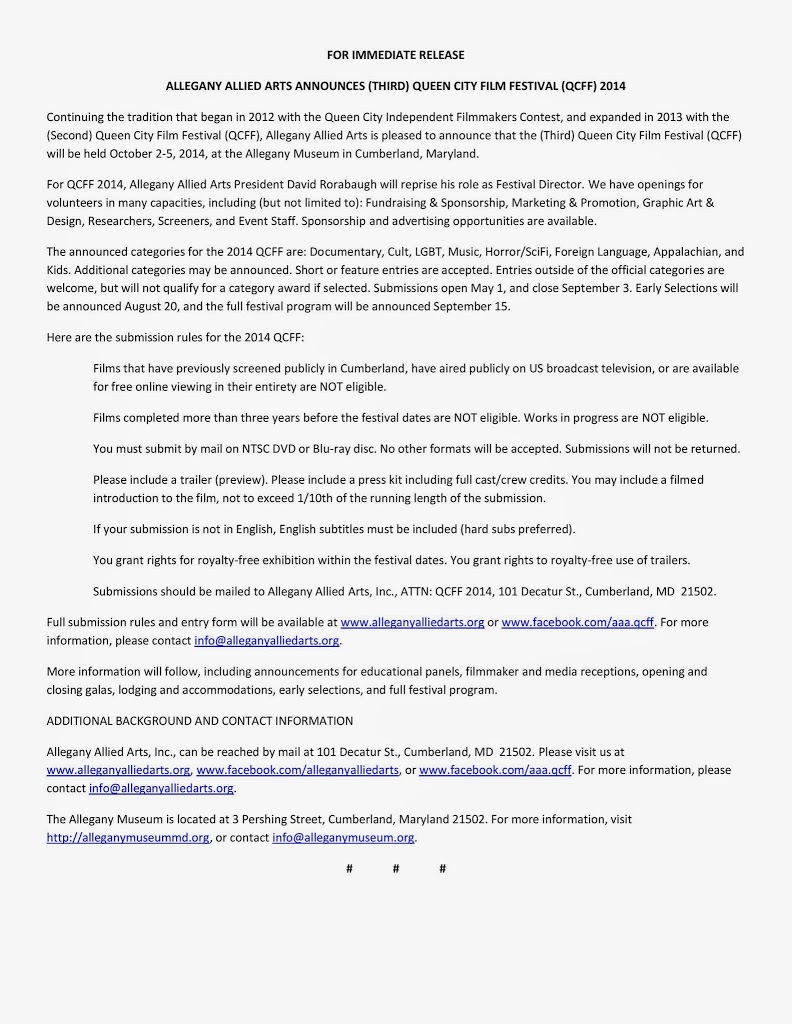 Continuing the tradition that began in 2012 with the Queen City Independent Filmmakers Contest, and expanded in 2013 with the (Second) Queen City Film Festival (QCFF), Allegany Allied Arts is pleased to announce that the (Third) Queen City Film Festival (QCFF) will be held October 2-5, 2014, at the Allegany Museum in Cumberland, Maryland.
For QCFF 2014, Allegany Allied Arts President David Rorabaugh will reprise his role as Festival Director. We have openings for volunteers in many capacities, including (but not limited to): Fundraising & Sponsorship, Marketing & Promotion, Graphic Art & Design, Researchers, Screeners, and Event Staff. Sponsorship and advertising opportunities are available.
The announced categories for the 2014 QCFF are: Documentary, Cult, LGBT, Music, Horror/SciFi, Foreign Language, Appalachian, and Kids. Additional categories may be announced. Short or feature entries are accepted. Entries outside of the official categories are welcome, but will not qualify for a category award if selected. Submissions open May 1, and close September 3. Early Selections will be announced August 20, and the full festival program will be announced September 15.
Here are the submission rules for the 2014 QCFF:
Films that have previously screened publicly in Cumberland, have aired publicly on US broadcast television, or are available for free online viewing in their entirety are NOT eligible.
Films completed more than three years before the festival dates are NOT eligible. Works in progress are NOT eligible.
You must submit by mail on NTSC DVD or Blu-ray disc. No other formats will be accepted. Submissions will not be returned.
Please include a trailer (preview). Please include a press kit including full cast/crew credits. You may include a filmed introduction to the film, not to exceed 1/10th of the running length of the submission.
If your submission is not in English, English subtitles must be included (hard subs preferred).
You grant rights for royalty-free exhibition within the festival dates. You grant rights to royalty-free use of trailers.
Submissions should be mailed to Allegany Allied Arts, Inc., ATTN: QCFF 2014, 101 Decatur St., Cumberland, MD 21502.
More information will follow, including announcements for educational panels, filmmaker and media receptions, opening and closing galas, lodging and accommodations, early selections, and full festival program.
ADDITIONAL BACKGROUND AND CONTACT INFORMATION